posted on 04 Apr 2015 21:36 by brashpants2724
Overview
Flat Feet and Fallen Arches are terms used to describe feet that have a low or no arch when weight bearing. There are two types of Flat Feet. Rigid Flat Foot. This type of foot is structurally flat, therefore, it has the same appearance when weight bearing and non weight bearing. Flexible Flat Foot. This is where the arch is present when non-weight bearing; however, when weight bearing it falls or collapses to a flat foot. This foot type is commonly referred to as Fallen Arches. Both of these foot types may be asymptomatic; however, they are characterised by excessive pronation of the joints of the foot (commonly the subtalar joint). The forces associated with this excessive pronation commonly results in pathological conditions, such as plantar fasciitis and tibialis posterior dysfunction which may cause pain in the feet.
Causes
The arches of most individuals are fully developed by the age of 12 to 13. While some people are born with flat arches, for others, the arches fall over time. The tibial tendon, which runs along the inside of the ankle from above the ankle to the arch, can weaken with age and with heavy activity. The posterior tendon, main support structure for the arch, can become inflamed (tendonitis) or even tear if overloaded. For women, wearing high heels can affect the Achilles tendon and alter the structure and function of the ankle. The posterior tibial tendon may compensate for this stress and break down, causing the arches to fall. Obesity is another contributing factor, as well as a serious injury to the ankle or foot, arthritis and bad circulation such as occurs with diabetes.
Symptoms
Flat feet may not cause any symptoms at all. Rigid flat feet may cause pain, calluses, blisters, or skin redness on the inner side of the foot. A stiff foot, weakness or numbness of the foot, Rapid wearing out of shoes-worn shoes lean in toward each other. Difficulty or pain with activities like running-in the foot, knee or hip.
Diagnosis
Determining whether you have fallen arches may be as easy as looking at the shape of the middle bottom of your foot. Is there any kind of arch there? If you cannot find any kind of arch, you may have a flat foot. There are, however, other ways to decide in case you're still not sure. Another way to figure out if you have flat feet is to look at a few pairs of your shoes. Where do you see the most wear on the heels? If you notice significant wear in the heel and the ball of the foot extending to the big toe, this means you are overpronating. Overpronators roll their feet too far inward and commonly have fallen arches. To figure out if you have flat feet, you can also do an easy test. Get the bottoms of your feet wet and then step on to a piece of paper carefully. Step off the paper and take a look at the print your foot made. If your print looks like the entire bottom of a foot, your feet are flat. People with an arch will be missing part of the foot on their print since the arch is elevated off of the paper. Regular visits to your podiatrist are highly recommended.
Non Surgical Treatment
Treatment of flat feet may be appropriate if there is associated foot or lower leg pain, or if the condition affects the knees or the lower back. Treatment may include using Orthoses such as an arch support, foot gymnastics or other exercises as recommended by a podiatrist/orthotist or physical therapist. In cases of severe flat feet, orthoses should be used through a gradual process to lessen discomfort. Over several weeks, slightly more material is added to the orthosis to raise the arch. These small changes allow the foot structure to adjust gradually, as well as giving the patient time to acclimatise to the sensation of wearing orthoses. Once prescribed, orthoses are generally worn for the rest of the patient's life. In some cases, surgery can provide lasting relief, and even create an arch where none existed before; it should be considered a last resort, as it is usually very time consuming and costly.
Surgical Treatment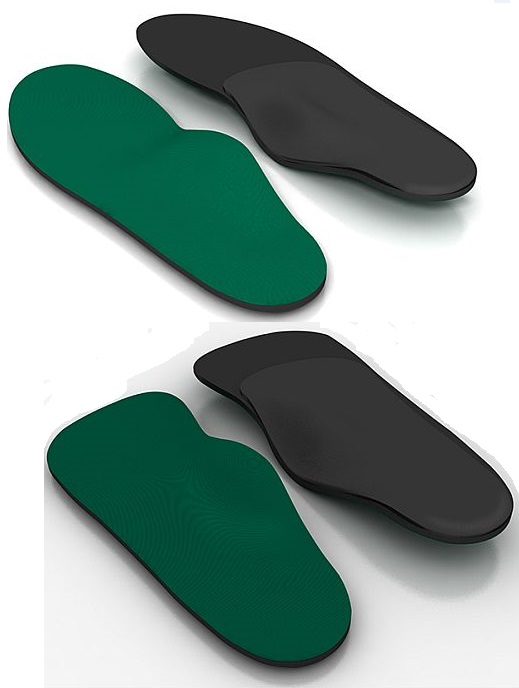 In cases of flat feet that have progressed substantially or have failed to improve with non-surgical treatment, surgery may be required and in some advanced cases, surgery may be the only option. Your foot and ankle surgeon will determine the best approach for you.